Posted on Feb 3, 2011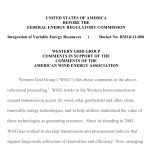 UNITED STATES OF AMERICA BEFORE THE FEDERAL ENERGY REGULATORY COMMISSION
Integration of Variable Energy Resources ) Docket No. RM10-11-000
WESTERN GRID GROUP COMMENTS IN SUPPORT OF THE COMMENTS OF THE AMERICAN WIND ENERGY ASSOCIATION

Western Grid Group ("WGG") files these comments in the above- referenced proceeding.1 WGG works in the Western Interconnection to expand transmission access for wind, solar geothermal and other clean, renewable energy technologies, and to help utilities understand the value of these technologies as generating resources. Since its founding in 2003, WGG has worked to develop transmission and procurement policies that support large-scale utilization of renewables and efficiency. Now, emerging climate goals make faster development of all low-carbon technologies a high priority.
On April 12, 2010, the American Wind Energy Association ("AWEA") submitted comments in response to the Commission's January 21, 2010 Notice of Inquiry2 ("NOI") in this proceeding. Western Grid Group supports AWEA's comments and incorporates them in these comments by this reference. In addition, we raise some additional points for the Commission's consideration.
I. COMMENTS
A. Support for AWEA's Comments
WGG supports AWEA's comments. WGG's work in the West on renewable energy and transmission shows the rapid change over just a few years in how, and how much renewables are considered in Western planning, policy, and regulatory discussions. For example, In the Rocky Mountain Area Transmission Study3 in 2004, major amounts of coal and minimal amounts of wind for export from Wyoming provided initial planning assumptions. Today, the lines planned from Wyoming are all about wind. Over the same few years, more Western states have established legally binding minimum renewable energy standards or have increased their standards. Several of the states have enacted carbon emission performance standards that require low carbon resources be given priority. As a result, most of the planning, policy, and regulatory assumptions, considerations and discussion in the West focus on how to provide necessary transmission, operating, and market reforms to make large amounts of new renewable energy sources work.