Posted on May 22, 2012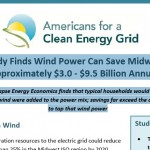 Americans for a Clean Energy Grid (ACEG) has released a new report "The Potential Rate Effects of Wind Energy and Transmission in the Midwest ISO Region." The report was released May 22, 2012.
New Study Finds Wind Power Can Save Midwestern
Consumers Approximately $3.0 ‐ $9.5 Billion Annually by 2020
New analysis from Synapse Energy Economics finds that typical households would save approximately $65 ‐ $200 per year if more wind were added to the power mix; savings far exceed the costs of new transmission to tap that wind power.
Below is the full report, the report fact sheet and an info-graphic with report highlights.
Full Report – The Potential Rate Effects of Wind Energy and Transmission in the Midwest ISO Region