Posted on Jun 11, 2012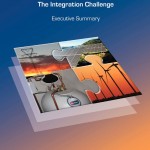 "Meeting Renewable Energy Targets in the West At Least Cost: The Integration Challenge"
The Western Governors' Association commissioned this report that explores ways to reduce costs to the region's electricity consumers for integrating wind and solar, identify barriers to adopting these measures and recommend possible state actions.
Prepared by Regulatory Assistance Project (RAP) for the Western Governors' Association. The preparation of this report was financed in part by funds provided by The Energy Foundation. The U.S. Department of Energy Office of Electricity Delivery and Energy Reliability supported the participation of the National Renewable Energy Laboratory (NREL).
In the report, 9 principles (or groupings of integration action) are explored:
Expand sub-hourly dispatch and intra-hour scheduling
Facilitate dynamic transfers between balancing authorities
Implement an energy imbalance market (EIM)
Improve weather, wind and solar forecasting
Take advantage of geographic diversity of resources
Improve reserves management
Retool demand response to complement variable supply
Access greater flexibility in the dispatch of existing generating plants
Focus on flexibility for new generating plants
Download or view THE EXECUTIVE SUMMARY.
Download or view  THE FULL REPORT.
Released June 10, 2012.
The Executive Summary and Full Report are also available on visit the Western Governors' Association site.